Why should I join Pionex Referral Program?
In order to expand the community, Pionex has launched the Pionex Referral Program. Now invite friends to join Pionex, you can get up to 50% fee refund + BUB rewards, just turn your influence into profits!
There are 2 levels of referral awards:
Basic:BUB reward
Pro:BUB reward + Fee return

How to get referral awards?
First log in to Pionex, App users can access "My" in the lower right corner of the App -> "Rererral Program" -> "My referrals"; Web users can access the "Account (Phone/ Email)" in the upper right corner——> "Referral program" Get your invitation code and invitation link, or send an invitation email directly to your friend, as long as he/she successfully registers in Pionex through the above method, then you invited a new user successfully!
Reward detailed rules:
BUB reward:
1. Invite your friends to sign up by sending them your referral link and teach them how to create a grid trading order;
2.You'll get 50 BUB when their grid bot trading volume has hit 20,000 USDT and additional 50 BUB when hitting 50,000 USDT。
Fee return:
After you have been a Pro influencer verified by Pionex, you'll have the fee return of your invitees up to 50% according to your invitees monthly trading volume.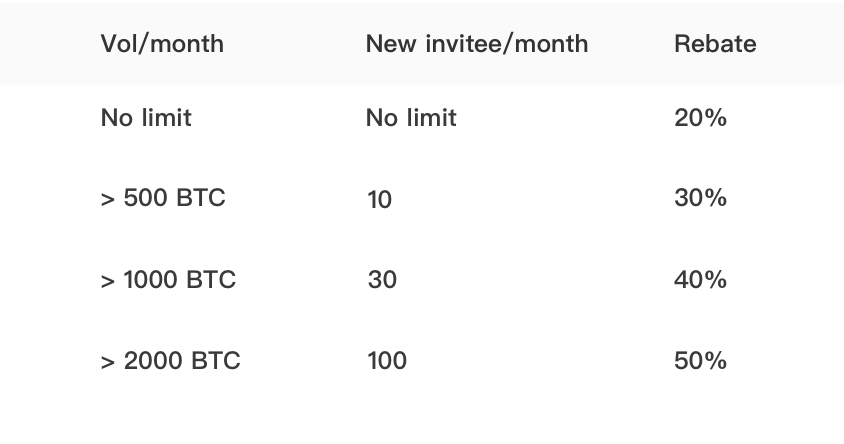 *The rebate you can get this month is decided by last month's volume and the quantity of new invitees.
How to be a Pro user?
If you meet one of the following standard, you can apply to be a Pro user:
1.You have invited 10 users who has created the grid trading bot through Pionex referral program.
2.You have a YouTube channel with more than 5,000 subscribers.
3.You are the admin of a telegram group or other chatting groups, and there are more than 50 active users.
4. You have an instagram account with more than 10,000 fans.
Invite friends to join Pionex now to start your referral program!